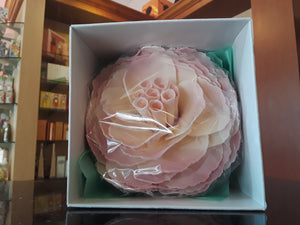 This is our fullest flower design with 35 or more hand-cut, hand-pieced petals. Use one petal for an average of 10 hand washes, bathing, shaving, guest soap or a travel soap. The creamy petals moisturize while cleansing. Using a single hand-pieced petal means that the rest of your flower stays together for the next experience. Shimmer tips. Almost 5 inches in diameter and approximately 3 inches high.
Color & Scent: Variegated pink and white. The hand-poured French Berry shades vary from flower to flower with some being lighter white and pink and others being more pink.
Fragrance: The scent of summer-ripened berries blends delectably with a hint of green leaf.