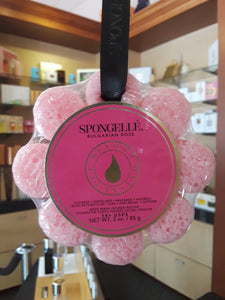 Regarded as the creme de la creme of roses, Bulgarian Rose delivers the sophisticated fragrance of real roses to elevate any bathing ritual with an elixir of rose parfum. Pamper your senses by cleansing and massaging your skin with our softening bath sponge and gentle body buffer infused with the aphrodisiac allure of Bulgarian Rose.
Fragrance Notes T: orange, clove, strawberry M: rose, white flowers, jasmine B: woody, sandalwood, ambery
Nestle into an unforgettably refreshing cleansing experience. Unleash Spongellé's creamy fragrance by placing your body wash-infused buffer under running water to reveal an airy, cloud-like hybrid of exfoliating massage and silky aromatic cleansing. Patented technology ensures a minimum of 14+ washes.
Rinse and squeeze out excess water after each use. Sponge can be re-purposed after complete use.