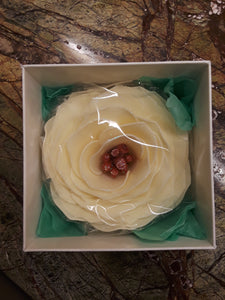 Holiday Berry Poinsettia Inspired by the holiday poinsettia that has beautiful reds and creams. This sparkling center began as an inspiration piece hand-sculpted from clay. Scented with a wonderful berry fragrance that infuses the bath with holiday festivity and cheer.
Fragrance: Fragrance Bright, juicy raspberry intermingled with orange zest and warm musk
This is our fullest flower design with 35 or more hand-cut, hand-pieced petals. Use one petal for an average of 10 hand washes, bathing, shaving, guest soap or a travel soap. The creamy petals moisturize while cleansing. Using a single hand-pieced petal means that the rest of your flower stays together for the next experience.