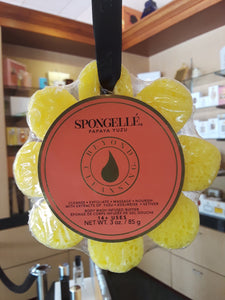 Create a relaxing ambiance with uplifting top notes of tropical fruit and light florals. Bathe your skin in a symphony of freshness using a cloud-like sponge and bouncy body buffer to both cleanse and calm the spirits.
Fragrance Notes T: mélange of fruity notes M: floral notes of cyclamen and bois de rose B: sweet sugary caramel
Nestle into an unforgettably refreshing cleansing experience. Unleash Spongellé's creamy fragrance by placing your body wash-infused buffer under running water to reveal an airy, cloud-like hybrid of exfoliating massage and silky aromatic cleansing. Patented technology ensures a minimum of 14+ washes.
Rinse and squeeze out excess water after each use. Sponge can be re-purposed after complete use.